Aplysia punctata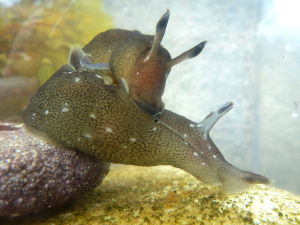 Observation - Aplysia punctata - UK and Ireland. Description: One can see in this picture why they are callled Sea Hares. During late July 2012, in close-inshore Orcadian waters and rock pools there was a small explosion of these delightful creatures. I brought a few home and into a makeshift aquarium - they were
One can see in this picture why they are callled Sea Hares.
During late July 2012, in close-inshore Orcadian waters and rock pools there was a small explosion of these delightful creatures.
I brought a few home and into a makeshift aquarium - they were a wonder of camouflage and motion. There are two in this picture through glass.
Main navigation