Freshwater Mussel, Grafham Water, 2013-02-04 001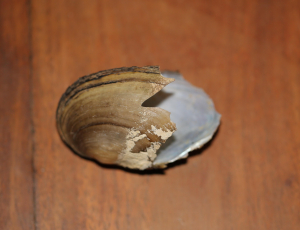 Observation - Freshwater Mussel, Grafham Water, 2013-02-04 001 - UK and Ireland. Description: This freshwater mussel was found on the edge of a ploughed field, about 100m from Grafham Reservoir. It was one of about half a dozen, all of which showed damage. All within reasonable proximity to each other - perhaps 10m. But by what got them? Gulls
This freshwater mussel was found on the edge of a ploughed field, about 100m from Grafham Reservoir. It was one of about half a dozen, all of which showed damage. All within reasonable proximity to each other - perhaps 10m.
But by what got them? Gulls? Crows? Either are plausible suspects. The water level is low, and there are lots of Black-headed Gulls and Carrion Crows about. I've certaily seen crows having a go at mussels; not so sure about the gulls. I suppose it could even have been a mammal, maybe a fox.
Interesting, though.
The third picture shows Teal feeding along the shore right next to another mussel shell.
Main navigation