IMG_3089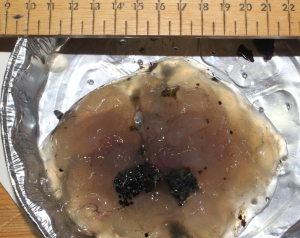 Observation - IMG_3089 - UK and Ireland. Description: Pink jelly like object found on a path near a puddle in open clear felled pine wood/ mixed wood. This side is the underside and appears to have black eggs, see photo 3090 for close up. Other side shows a thin skin, no visible scales could be fish.Ph
Pink jelly like object found on a path near a puddle in open clear felled pine wood/ mixed wood.

This side is the underside and appears to have black eggs, see photo 3090 for close up.

Other side shows a thin skin, no visible scales could be fish.Photo 3092 Toothpick shows position of spine revealed in next photo.

Moving the skin reveals a back bone. Photo 3091
Main navigation