Fieldfare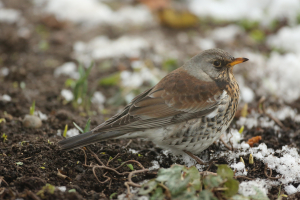 Observation - Fieldfare. Description: You don't get much closer than this. Bit of a cheat really - I put out some apples. This bird chased off all the blackbirds, and it made a serious glutton of itself. I've seen a lot of Fieldfare recently; they seem to be everywhere. I suspect a shorta
You don't get much closer than this. Bit of a cheat really - I put out some apples. This bird chased off all the blackbirds, and it made a serious glutton of itself.
I've seen a lot of Fieldfare recently; they seem to be everywhere. I suspect a shortage of food in the snowy weather.
Picture taken through glass, but not too bad.