Phytolacca virginiana - Pokeweed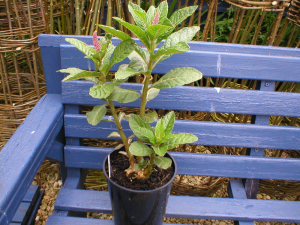 Observation - Phytolacca virginiana - Pokeweed - UK and Ireland. Description: Another Pokeweed: again, perennial, growing to 4-5' high, becoming multi-stemmed after a couple of years: with upright racemes of small pink flowers, ripening into glossy black berries. The ID was given to me by the garden owner who let me collect see
Another Pokeweed: again, perennial, growing to 4-5' high, becoming multi-stemmed after a couple of years: with upright racemes of small pink flowers, ripening into glossy black berries.

The ID was given to me by the garden owner who let me collect seedlings and seeds which I grew, a couple of years ago. I also found it growing under this name at Woolstone Mill House (garden open to public) so I'm fairly sure it's the correct name, but garden owners have been known to be wrong (!) so I'll accept any amendments.

Leaves are much coarser and stronger than the other Pokeweeds observed here: deeply veined, and the margins are very slightly rolled.

Apparently, Pokeweed (not sure exactly which species) was commonly eaten in the US, and is the basis of the Elvis song Poke Salad Annie. The leaves are, however, also said to be poisonous, so I guess it's a combination of getting the correct plant, picking at the right time (one internet source suggests the leaves become poisonous as they age) and the correct preparation. (I'll stick to lettuce, thanks.)
Main navigation