Tulip Tree in winter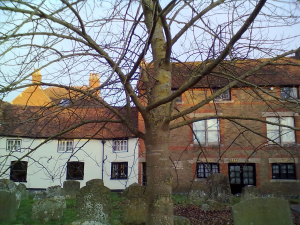 Observation - Tulip Tree in winter - UK and Ireland. Description: Another ornamental in the churchyard: Tulip Tree or Liriodendron tulipifera. Very distinctive buds, being sort of flat: also, there is a scar running around the twig, just above each lateral bud, which is from the stipules. Apologies for not getting a
Another ornamental in the churchyard: Tulip Tree or Liriodendron tulipifera.

Very distinctive buds, being sort of flat: also, there is a scar running around the twig, just above each lateral bud, which is from the stipules. Apologies for not getting a good photo of that.

Tree has big, solid trunk but the canopy is comprised of airy, thin twigs, which tend to curl up at the ends.

I haven't seen this one flower (I think they need a hot summer to do so, hollow laugh) but the leaves are so lovely that I grow them just for the foliage.

EDIT: added proper title, sorry, only just noticed that it took the photo number, which is not very helpful as a title.
Main navigation