Betjeman Park trees 6 - Spindle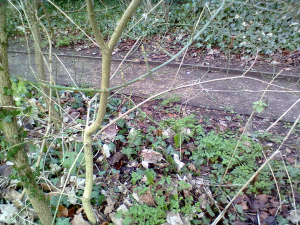 Observation - Betjeman Park trees 6 - Spindle - UK and Ireland. Description: In winter, easily confused with Cornus Mas, as this too has bright green twigs, opposite buds, and an untidy shrubby habit. It is also often planted in the same municipal/park/road verges, as it's also a tough plant. Key differences, this has the brigh
In winter, easily confused with Cornus Mas, as this too has bright green twigs, opposite buds, and an untidy shrubby habit. It is also often planted in the same municipal/park/road verges, as it's also a tough plant.

Key differences, this has the bright green bark all along the twigs and branches back to the main trunk, not just in the new growth: the twigs and buds grow at 90 degrees, at right angles, out from the branches. Not at 45 degrees, as Cornus Mas does.

Finally, the buds in winter are light green and pointed, not shaped like lightbulbs.

Everyone can spot Spindle when it has those ridiculously bright cerise and orange berries on it, but it's not quite as easy without them.
Main navigation