Betjeman Park trees 2 - Elder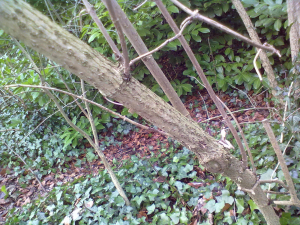 Observation - Betjeman Park trees 2 - Elder - UK and Ireland. Description: Often found in hedgerows and in municipal planting, as they self-seed everywhere. Bark is warty, and brownish-grey: buds and branches are opposite, and the buds are distinctly purple. If in doubt, snap a twig and smell it: they smell quite bad. They
Often found in hedgerows and in municipal planting, as they self-seed everywhere.

Bark is warty, and brownish-grey: buds and branches are opposite, and the buds are distinctly purple. If in doubt, snap a twig and smell it: they smell quite bad.

They can make small trees, with respectable trunks, but more often they are untidy shrubs, prone to wind damage (which spoils their form) and fast-growing to make up for it.
Main navigation