Cockspurthorn in winter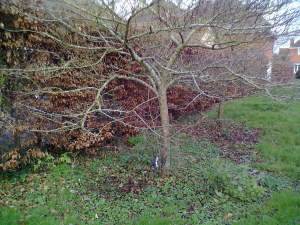 Observation - Cockspurthorn in winter - UK and Ireland. Description: Small tree, often planted on roadsides and in municipal planting: vicious thorns along branches, and sometimes on the trunk as well. In winter, have red berries which at a glance, can be mistaken for Hawthorn: but this grows in the habit of a tree, rat
Small tree, often planted on roadsides and in municipal planting: vicious thorns along branches, and sometimes on the trunk as well.

In winter, have red berries which at a glance, can be mistaken for Hawthorn: but this grows in the habit of a tree, rather than a shrub, and the spines do not have any buds growing along their length, as Hawthorn (and Blackthorn) do.

Also, Hawthorn grow very untidily, whereas if you look sideways through the crown, Cockspurthorn often look as though they have been "combed".
Main navigation