Tree of Heaven in winter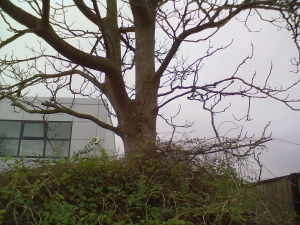 Observation - Tree of Heaven in winter - UK and Ireland. Description: Medium sized tree, bark unspectacular: they are said to sucker mercilessly, but this is just one, being swamped by a hedgerow. Distinctive leaf-scars on chunky, matte, slightly furry twigs: a lot of the leaves' central ribs remain on the tree for some
Medium sized tree, bark unspectacular: they are said to sucker mercilessly, but this is just one, being swamped by a hedgerow.

Distinctive leaf-scars on chunky, matte, slightly furry twigs: a lot of the leaves' central ribs remain on the tree for some time, giving a wispy appearance to some twig ends.

I have been observing this tree since earlier last year, which is why I am as sure as I can be as to it's ID.
Main navigation