Bird Cherry in winter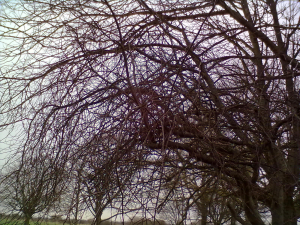 Observation - Bird Cherry in winter. Description: Short straight trunk, branching out into a tangled mess of skinny twigs, all criss-crossing and messy - very typical growth habit. Clearly planted (in an industrial estate) as an ornamental tree - lovely flowers in spring. Buds are alternate, quite
Short straight trunk, branching out into a tangled mess of skinny twigs, all criss-crossing and messy - very typical growth habit.

Clearly planted (in an industrial estate) as an ornamental tree - lovely flowers in spring.

Buds are alternate, quite long, appearing singly along the twig in a spiral, but in a small cluster at the tip. Sometimes only two, sometimes more.

Easy to distinguish from "proper" cherry in winter, for two reasons: firstly, the bark is not as distinctly marked horizontally as in normal cherry (see second photo) and secondly, if you break a twig, or scrape back the bark (see fourth photo) it has a very strong smell! Once smelt, always remembered.