Glasgow Otters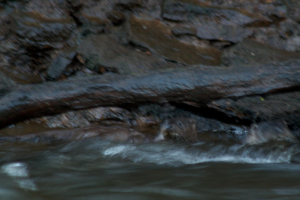 Observation - Glasgow Otters - UK and Ireland. Description: My first sighting of an otter in Glasgow, and only a short walk from my flat that the White Cart River flows past. Unfortunately for the otter it seamed to be distressed. I was trying to photograph Dippers, when I heard very loud 'peep, peep', I then saw
My first sighting of an otter in Glasgow, and only a short walk from my flat that the White Cart River flows past.
Unfortunately for the otter it seamed to be distressed. I was trying to photograph Dippers, when I heard very loud 'peep, peep', I then saw what I thought must be a mink climb out the river as it was quite small. Shortly after a dog came bounding across the river and followed the path of the creature. Further upstream I saw the flat head of an otter. Later the owner managed to take control of the dog, but the otter was then frantically swimming and searching up and down stream.
Unfortunately in the excitement I didn't do the best job in photographing despite it being about five meters from me at one point.
I didn't see a reunion, but thankfully it looked like the dog didn't catch anything. But it goes to show that owners must be responsible and have full command over their dogs. Im glad the otters are here in Glasgow and they must put up with many dogs and their owners ignorance. Please be ware of the wildlife around you. Its there even if you can't see it.
Main navigation