Grey Squirrel with Corn on the Cob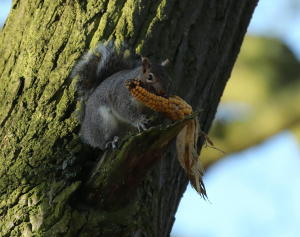 Observation - Grey Squirrel with Corn on the Cob - UK and Ireland. Description: There's this field in which the farmer planted sweetcorn this year, and it's right next to a large wood. The evidence of raids into the fiels by the local squirrels are everywhere! Husks, leaves, the works. I don't know how this cob survived - the field
There's this field in which the farmer planted sweetcorn this year, and it's right next to a large wood. The evidence of raids into the fiels by the local squirrels are everywhere! Husks, leaves, the works. I don't know how this cob survived - the field's been harvested - maybe the squirrel had stored it earlier.
Incidentally, it's a very popular gleaning field with wood pigeons.
Picture 2 shows some of the evidence.
Main navigation