Elm in winter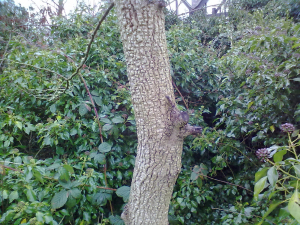 Observation - Elm in winter. Description: Quite distinctive bark, even on young trees (which is what you will mostly find, these days), often found in hedgerows, as they sucker freely. Some younger branches might have the distinctive corky wings (the only other tree with corky wings is Field M
Quite distinctive bark, even on young trees (which is what you will mostly find, these days), often found in hedgerows, as they sucker freely.

Some younger branches might have the distinctive corky wings (the only other tree with corky wings is Field Maple, Acer campestris, which has buds held in opposite pairs, not alternate as we have here) but some don't: there doesn't seem to be any rhyme or reason for it.

Generally, the branches/twigs make a rough herringbone pattern.