Collembola (Dicyrtoma fusca)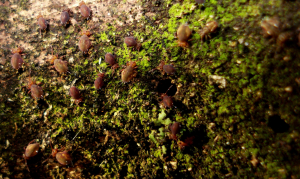 Observation - Collembola (Dicyrtoma fusca) - UK and Ireland. Description: The gathering was far greater than what could be captured with my point and shoot. On turning the previously disturbed* piece of bark the dots appeared to be in an arranged order. Thinking it was some fruiting slime mold, I attempted
The gathering was far greater than what could be captured with my point and shoot.

On turning the previously disturbed* piece of bark the dots appeared to be in an arranged order. Thinking it was some fruiting slime mold, I attempted a closer look with my hand lens**. Was I surprised, as before I could get close enough the formation broke and started to disperse.

* A judgement based on moss not normally found growing on the underside of bark, be it attached or, as in this case, unattached.

** Forgot my own rule of thumb, photograph, then look, (if the opportunity still exist).
Main navigation