Filbert (Hazel)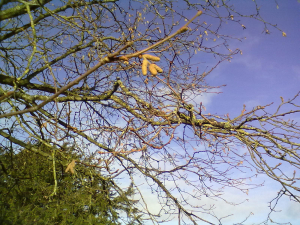 Observation - Filbert (Hazel) - UK and Ireland. Description: Neglected coppiced Filbert (Hazel): has been allowed to grow into a multi-stemmed tree. Branches and twigs are congested, bark smooth and almost shiny in places. Difference between this and normal Hazel (Corylus avellana) is in the nuts, not visible to
Neglected coppiced Filbert (Hazel): has been allowed to grow into a multi-stemmed tree. Branches and twigs are congested, bark smooth and almost shiny in places.

Difference between this and normal Hazel (Corylus avellana) is in the nuts, not visible today: Filbert nuts are long, and the involucre (ring of bracts) completely cover them. C. avellana nuts are round, and are not completely covered by the bracts.

I'm not at all sure that it's possible to differentiate these two vegetatively: open to suggestions!
Main navigation