About behaviour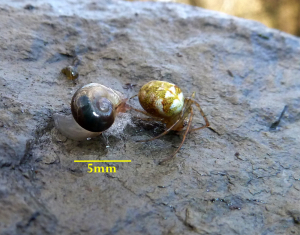 Observation - About behaviour - UK and Ireland. Description: Here we have a Pelucid Glass Snail (Vitrina pellucida) and an unidentified spider. I watched as the spider appeared to be mollesting the snail. The snail appeared to be stressed, the spider overly 'familiar'. The spider produced a small net - seen; the
Here we have a Pelucid Glass Snail (Vitrina pellucida) and an unidentified spider.
I watched as the spider appeared to be mollesting the snail.
The snail appeared to be stressed, the spider overly 'familiar'.
The spider produced a small net - seen; the Snail produced slime and bubbles, not seen.
There was no outcome. I had disturbed this process by turning over the stone. The spider lost interest after 15 minutes.
This post then is to do with behaviour not ID, though if anyone is up for the spider....
I'd like comment please.
Main navigation