Black birds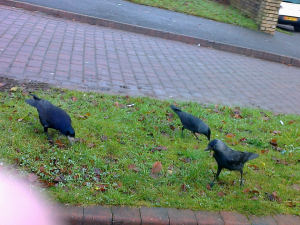 Observation - Black birds - UK and Ireland. Description: These birds were seen near some urban shops scavenging food tidbits dropped or cast aside from persons [me included] who had visited the hot-food take away. I only got the one shot on mobile phone before they were scared away. I am fairly certain the on
These birds were seen near some urban shops scavenging food tidbits dropped or cast aside from persons [me included] who had visited the hot-food take away. I only got the one shot on mobile phone before they were scared away.
I am fairly certain the one on the left is a rook,but less certain about the two on the right.
They look a bit like juvenile rooks but seem to have a grey area around their necks - possible young hooded crows?
Main navigation