Baby Velvet Shanks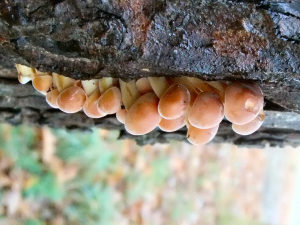 Observation - Baby Velvet Shanks - UK and Ireland. Description: Several clusters of yellow-orange mushrooms growing in cracks in the bark of a deciduous tree about 1.5 m from the ground. Caps up to 22 mm across, sticky, neat and rounded when small then more distorted and shiny when bigger, yellow - orange/tawny brown
Several clusters of yellow-orange mushrooms growing in cracks in the bark of a deciduous tree about 1.5 m from the ground.
Caps up to 22 mm across, sticky, neat and rounded when small then more distorted and shiny when bigger, yellow - orange/tawny brown.
Stems 2 cm long, 5 mm diameter, same colour as, or paler than cap. White flesh inside cap and stem.
Off-white, free/adnexed gills.
spore print white. 4-spored basidia.
Spores ellipsoid/oblong, smooth, hyaline, inamyloid, 6.5-8 x 3.5-4.5 µm.
Cheilocystidia 50 x 10 µm, clavate/fusiform/lagenform.
Pleurocystidia 35 x 15 µm, cylindrical/utriform.
Pileocystidia about 7 µm diameter cylindrical with rounded ends.
Main navigation