BADGER-SIZED MAMMAL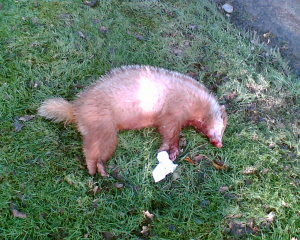 Observation - BADGER-SIZED MAMMAL - UK and Ireland. Description: I came across this animal lying dead on the verge on the side of the road just outside Tilston in Cheshire, about 6 years ago. I've always wondered what it was - anybody know? You can't really scale it from my photos, but I think it was around the size o
I came across this animal lying dead on the verge on the side of the road just outside Tilston in Cheshire, about 6 years ago. I've always wondered what it was - anybody know?
You can't really scale it from my photos, but I think it was around the size of a small dog.
Was it a badger? Colouring looks all wrong, but maybe that's just juvenile colouring?
Over to you!
Main navigation