Cavalier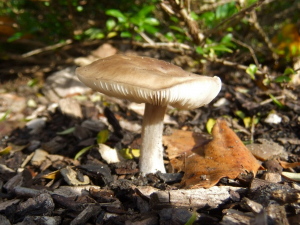 Observation - Cavalier - UK and Ireland. Description: Single mushroom growing in a woodchip mulched border with shrubs. Cap 5 cm across, light grey-brown, paler at margin, flat top with slightly turned down edge. Stipe 3.5 cm long, beige, fibrous about 1 cm at base tapering to 7 mm at top. Brown flesh insi
Single mushroom growing in a woodchip mulched border with shrubs.
Cap 5 cm across, light grey-brown, paler at margin, flat top with slightly turned down edge.
Stipe 3.5 cm long, beige, fibrous about 1 cm at base tapering to 7 mm at top. Brown flesh inside and white mycelium adhering to soil at base.
Broad fairly crowded emarginate gills white with a hint of yellow, visible beneath cap in side view.
White spore print.
Elliptical (Qe = 1.6) amyloid spores covered in tiny spines or warts. Hyaline with single greenish oil drops in water, more monochrome in Melzers with spines stained black. Measured 7-8 x 4.5-5 µm.
Harpoon-like gill cystidia with crystals encrusting tips, fusoid-ventricose, about 50 x 10 µm.
4-spores clavate basidia about 25 x 7 µm.
Caulocystidia a mix of clavate and other similar to cystidia on gills.
Hyphae of pileipellis about 10 µm diameter, septate with no obvious clamps.
Main navigation