Himalayan Balsam (Impatiens glandulifera)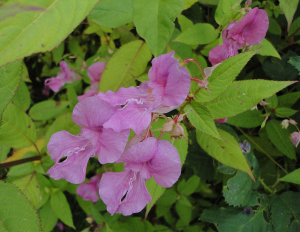 Observation - Himalayan Balsam (Impatiens glandulifera) - UK and Ireland. Description: I just love the common/vernaculr names mentioned in Wikipedia, the free encyclopedia; in full below. The common names Policeman's Helmet, Bobby Tops, Copper Tops, and Gnome's Hatstand all originate from the flowers being decidedly hat-shaped. Himalayan
I just love the common/vernaculr names mentioned in Wikipedia, the free encyclopedia; in full below.

The common names Policeman's Helmet, Bobby Tops, Copper Tops, and Gnome's Hatstand all originate from the flowers being decidedly hat-shaped. Himalayan Balsam and Kiss-me-on-the-mountain arise from the fact that the plant originates in the Himalayan mountains.
The species name glandulifera comes from the Latin words glandis meaning 'gland', and ferre meaning 'to bear', in that the plant has glands that produce a sticky, sweet-smelling, and edible nectar.
Main navigation