Auchenorrhyncha (Ophiola decumanua)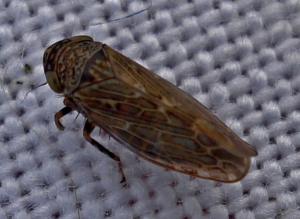 Observation - Auchenorrhyncha (Ophiola decumanua) - UK and Ireland. Description: now equals Scleroracus decumanus, not sure on this..?
Details (below), extracted from Le Quesne & Payne (1981) currently used check list for UK Auchenorrhyncha, which (apparently), is not supported by the British Natural History Museum, why? Love some feed back on this topic.
⦁ BRC Code - 12202
⦁ Accepted name - Ophiola decumana
⦁ Previous name - Scleroracus decumanus
⦁ Author (Kontkanen 1949)
⦁ Family - Cicadellidae
⦁ Subfamily - Deltocephalinae
⦁ National status - Notable B

Comments made by Dr Joe Botting on my Flickr account 5 years ago.
Joe Botting 5y
That's another stoking find, Mick! It's an Ophiola species, and going by B&N I'm pretty sure it's decumana. Tristan should be able to confirm or otherwise from the nymph, which I'm sure is the same species. It's very much a local species, and I'm not aware of it being found as far north as Lincolnshire before...

p.s. Previously known as Scleroracus decumanus (Tristan's got one under that name).

Joe Botting 5y
Kirby records it from quite a few locations, including Yorkshire and Scotland... but it could well be a Lincs first, so well worth checking out properly.
Main navigation