Yellow mushrooms near beach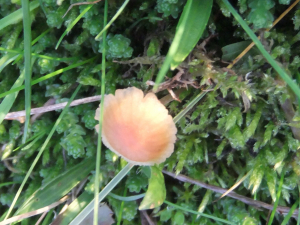 Observation - Yellow mushrooms near beach - UK and Ireland. Description: Group of yellow mushrooms growing on grassy mossy waste ground within sight of the sea. Cap 1.5 cm across, convex orangey-yellow with paler margins and darker radial lines, smaller ones with rounded caps. Gills off-white, adnate in one specimen, free in
Group of yellow mushrooms growing on grassy mossy waste ground within sight of the sea.
Cap 1.5 cm across, convex orangey-yellow with paler margins and darker radial lines, smaller ones with rounded caps.
Gills off-white, adnate in one specimen, free in another (or maybe nibbled by a slug?), about 14 met stipe, with 2 or 3 intermediates in between.
Stem about 3 cm long, 1 mm diameter, flexible, light yellow colour.
Spore print dark but faint, difficult to make out colour but looks yellowish.
Spores 8-9 x 4-5 µm, smooth, egg-shaped Qe = 1.9, light greeney-brown in Melzers, some with off-centre apiculus visible.
Main navigation