False Chanterelle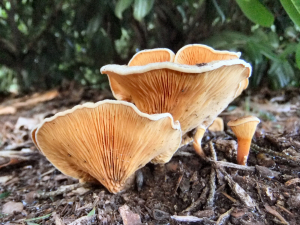 Observation - False Chanterelle. Description: Cluster of dirty-looking mushroom growing in a frosty wood-chip mulched border. Caps coloured tawny/dark-grey at centre becoming progressively lighter-coloured towards off-white margin. Funnel-shaped with curled-in margin. Up to about 7 cm across. Soft
Cluster of dirty-looking mushroom growing in a frosty wood-chip mulched border.
Caps coloured tawny/dark-grey at centre becoming progressively lighter-coloured towards off-white margin. Funnel-shaped with curled-in margin. Up to about 7 cm across. Soft and flexible. No distinctive smell.
Orange dichotomously-forked decurrent slightly wavy crowded gills.
Dark brown stems, 3 cm long, about 7 mm across, no ring, tapering towards base which was fused with adjacent muchrooms and showed some cream-coloured mycelium among the adhering little clod of earth.
White spore print went brown with a drop of Melzer's, though the reagent itself is brown, so hard to know how much colour change was due to a reaction with the spores.
Smooth oval spores, 6.5-7 x 3.5-4, Qe=1.7, with a granulated appearance or one or two large blobs inside. Light green/grey in water, slighly yellower in Melzers, so inamyloid or maybe slighly dextrinoid.
Hyphae of pileipellis 5-8 µm diameter with clamps and rounded end cells.