conifer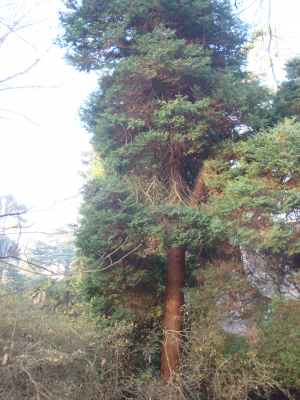 Observation - conifer. Description: Planted conifer in a park. small pointy leaves, slightly scented. Red bark. The picture of four leaves lined up - from left, the conifer in question, Cryptomeria japonica, Sequoiadendron giganteum and Sequoia sempervirens. On the last picture shows the
Planted conifer in a park. small pointy leaves, slightly scented. Red bark.
The picture of four leaves lined up - from left, the conifer in question, Cryptomeria japonica, Sequoiadendron giganteum and Sequoia sempervirens.
On the last picture shows the habit of the tree a little... the mound on the right is actually a branch from the main(left)trunk, so it is not growing in a conical shape. Some of the branches droop then come back up. Some of the lower branches were removed, but if not it may layer itself...?
There is no cones visible on the tree and I could not find any on the ground either.