Turkeytail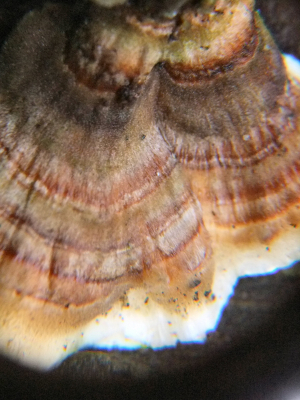 Observation - Turkeytail - UK and Ireland. Description: Large array of small, tough, leathery brackets growing on a fallen tree. Brackets up to about 8 cm across, a few mm deep. Top surface velvety with concentric bands of different colours and textures, with minute hairs (about 0.2 mm long) and white margin
Large array of small, tough, leathery brackets growing on a fallen tree.
Brackets up to about 8 cm across, a few mm deep.
Top surface velvety with concentric bands of different colours and textures, with minute hairs (about 0.2 mm long) and white margin.
White underside covered with tiny more or less round pores, about 0.25 mm diameter, 3-4 per mm, with tubes 0.2-0.3 mm deep. Hyaline threads visible inside pores, some branching. Hyphae of flesh around pores were long theads of about 5 µm diameter.
Indistinct pale spore print. Hyaline sausage-shaped spores, 5-6 x 2-3 µm, Qe = 2.3, many with little offset stalks at one end.
Main navigation