Persion Ironwood - Parrotia persica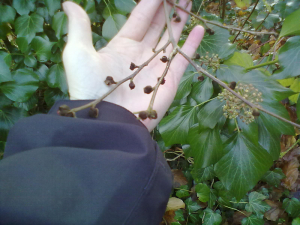 Observation - Persion Ironwood - Parrotia persica - UK and Ireland. Description: A little flash of red caught my eye: the flowers are just starting to open, the red anthers are just peeping out. Not sure if you can see that in my (not very good) photos: camera phone refuses to do close-ups, sorry. The autumn display is now over
A little flash of red caught my eye: the flowers are just starting to open, the red anthers are just peeping out.

Not sure if you can see that in my (not very good) photos: camera phone refuses to do close-ups, sorry.

The autumn display is now over but the leaf litter shows how many leaves there were: they always look, to me, as though they need ironing: that, and the veination pattern, make this tree easy to ID.
Main navigation