Shaggy Scalycap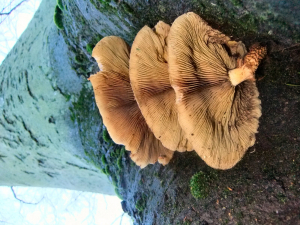 Observation - Shaggy Scalycap - UK and Ireland. Description: Crowded groups of scaly brown mushrooms growing at base of a living Beech Tree. Large caps, up to about 12 cm across, shallowly convex, light-brown, darker towards centre, covered with concentric rows of large dark-brown scales. Flesh white. Vegetable
Crowded groups of scaly brown mushrooms growing at base of a living Beech Tree.
Large caps, up to about 12 cm across, shallowly convex, light-brown, darker towards centre, covered with concentric rows of large dark-brown scales.
Flesh white.
Vegetable smell, not mushroomy but maybe of garlic.
Stem 9 cm long, 1 cm across narrowing slightly towards base, some joined to others at base, covered in large dark-brown scales below a fibrous ring zone, off-white and free of scales above.
Gills broad, crowded, yellow-ochre, adnate.
Spore print dark brown.
Spores 6.5-7 x 4-5 µm, Q = 1.5, oval, smooth, slightly paler at one end suggestive of apical pore but none obvious.
Basidia 4-spored, clavate, about 25 x 5 µm, hyaline in KOH.
Cystidia (mainly pleurocystidia I think) about 35 x 10 µm, clavate/mucronate, some with distinct crystals inside, others coloured orangey-yellow in KOH.
Clamp connections obvious in hyphae of cap.
Main navigation