Lycogala terrestre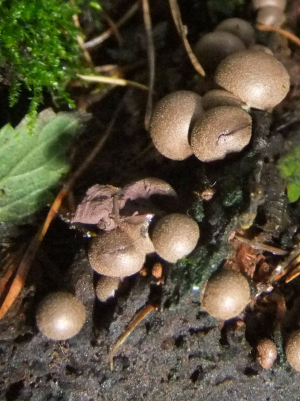 Observation - Lycogala terrestre - UK and Ireland. Description: Group of brown spherical/ellipsoid roughened blobs up to about 1 cm across stuck to a rotting barkless log in among the weeds in a mixed wood. Spores mass was purplish-pink. Spores were subspherical (Q = 1.0-1.1), covered with a network of lines and meas
Group of brown spherical/ellipsoid roughened blobs up to about 1 cm across stuck to a rotting barkless log in among the weeds in a mixed wood.
Spores mass was purplish-pink. Spores were subspherical (Q = 1.0-1.1), covered with a network of lines and measured 7-8 x 6.5-7.5 microns.
Pseudocapillitium tubes were long, covered with fine transverse ridges, branching with a diameter of about 5-10 microns and rounded ends.
Main navigation