Stubble Rosegill with furry cap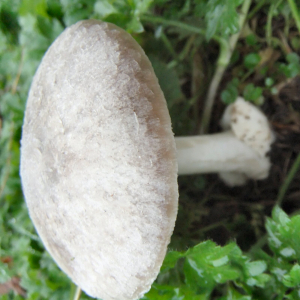 Observation - Stubble Rosegill with furry cap - UK and Ireland. Description: Cap 7 cm across, shallowly convex, neatly turned down at margin, pale flesh-coloured with white down over most of the surface in the field but turned slimy on the way home and eventually dark-brown and very slimy. Gills white, free, quite broad and crowd
Cap 7 cm across, shallowly convex, neatly turned down at margin, pale flesh-coloured with white down over most of the surface in the field but turned slimy on the way home and eventually dark-brown and very slimy.
Gills white, free, quite broad and crowded. After a few days turned tan-brown.
Stem 8 cm tall, 1.2 cm diameter, tapering slightly upwards from a white sheath at base.
Spore print brown/dark pink. Spores ellipsoid (Q = 1.6), non-amyloid , smooth 11.5-14 x 7-9 µm.
Main navigation