Closer look at Bracket on my fence post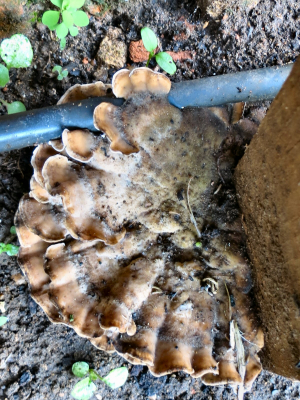 Observation - Closer look at Bracket on my fence post - UK and Ireland. Description: Bracket fungus growing on a fence post in my garden. Several overlapping brackets, fused at base, fan-shaped, 10 cm across from above, upper surface like dirty beige suede with an off-white wavy margin. Quite thin from side. Grey lower surface covered w
Bracket fungus growing on a fence post in my garden.
Several overlapping brackets, fused at base, fan-shaped, 10 cm across from above, upper surface like dirty beige suede with an off-white wavy margin.
Quite thin from side. Grey lower surface covered with minute pores and white margin.
Flesh off-white/light-brown. Cross-section of thickest part was about 7 mm deep.
Single layer of dark-grey tubes, about 1 mm deep, about 7 pores per mm, pretty regularly round, diameter approx 0.1 mm.
Whitish spores print.
Spores 4.0 x 2.5 µm, hyaline, non-amyloid, smooth, squarish oval-shaped, Q = 1.6.
Clamp connections in crush slide.
Main navigation