Opaq Jelly Fungus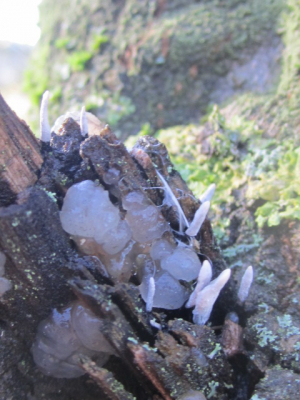 Observation - Opaq Jelly Fungus - UK and Ireland. Description: Globules of an Opaq/White jelly found on both living and dead timber. No visible signs of crystals inside and no traces of yellow anywhere, so I'm assuming that it is not either crystal or yellow brain. Possibly White Brain? Collins complete guide says
Globules of an Opaq/White jelly found on both living and dead timber. No visible signs of crystals inside and no traces of yellow anywhere, so I'm assuming that it is not either crystal or yellow brain. Possibly White Brain?
Collins complete guide says "widespread but occasional", although I seem to be finding it almost everywhere at present.
Ignore the Candle Snuff.
Main navigation