Two for the price of one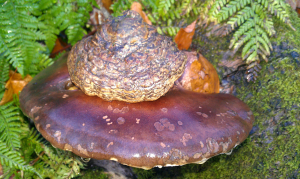 Observation - Two for the price of one - UK and Ireland. Description: Hoof Fungus (Fomes fomentarius) found on fallen birch trunk and sitting on top of whopping Birch Polypore (Piptoporus betulinas) from same tree. Hoof Fungus is bomb-proof - upper surface extremely tough. Creamy circular pores on underside easily bruised
Hoof Fungus (Fomes fomentarius) found on fallen birch trunk and sitting on top of whopping Birch Polypore (Piptoporus betulinas) from same tree.
Hoof Fungus is bomb-proof - upper surface extremely tough. Creamy circular pores on underside easily bruised - see second picture.
It was bucketing down, hence the shiny wet upper surface on the Hoof fungus.
Main navigation