Lichen with spiky underside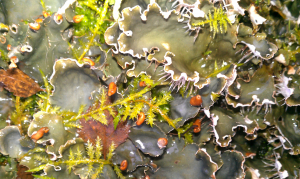 Observation - Lichen with spiky underside. Description: I don't know the first thing about lichen - and I'm not even sure this is lichen! It has white spines underneath the waxy green, wavy upper, although the spines are soft and flexible. Found in ankle-deep grass on very boggy ground (where isn't boggy in
I don't know the first thing about lichen - and I'm not even sure this is lichen!
It has white spines underneath the waxy green, wavy upper, although the spines are soft and flexible.
Found in ankle-deep grass on very boggy ground (where isn't boggy in the west of Scotland right now?) in mixed woodland - birch, beech, some sycamore.
First picture, taken in field, shows small brown nodules on the uppers.
Be fascinated to know what it is.