Agrostemma githago - corn cockle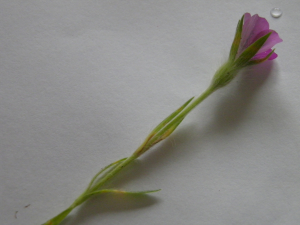 Observation - Agrostemma githago - corn cockle - UK and Ireland. Description: Pretty, slender little plant with flowers that repay a close look. Softly hairy up the stem, really fluffy calyx: short narrow leaves in pairs up the stem. Usually flowers in July-August, these were sown very late in the year and are struggling to
Pretty, slender little plant with flowers that repay a close look.

Softly hairy up the stem, really "fluffy" calyx: short narrow leaves in pairs up the stem.

Usually flowers in July-August, these were sown very late in the year and are struggling to flower now.

As the sepals are not significantly longer than the petals, this is most likely the introduced variety rather than the original (now rare) wild variety: seed was collected last summer from a "wildflower mix" sown meadow/garden.
Main navigation