Tiny mushrooms on old bracket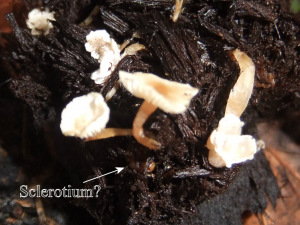 Observation - Tiny mushrooms on old bracket - UK and Ireland. Description: A few tiny mushrooms growing on the remains of an old bracket fungus (Inonotus hispidus) that had been knocked down from an Ash Tree a couple of years ago. Cap was flat, beige with a darker light coffee-coloured depressed central area, up to about 1 cm a
A few tiny mushrooms growing on the remains of an old bracket fungus (Inonotus hispidus) that had been knocked down from an Ash Tree a couple of years ago.
Cap was flat, beige with a darker light coffee-coloured depressed central area, up to about 1 cm across.
Gills sparse.
Stipe flesh-coloured (similar to centre of cap), about 1.5 cm long, <1 mm diameter, twisted, fibrous. Closer examination of one of the photos revealed a yellow-brown pea-shaped "seed" buried in the substrate that I later discovered was likely to be the sclerotium of the mushrooms.
Specimen dried up overnight but rehydrated in KOH. Crush slide revealed 4-spored basidia, a few clavate cystidia and some brached hyphae, but it was hard to tell what was what!
Spores smooth, oval (Q = 1.5), some with little stalks at one end, hyaline, light green in Melzer's, 4.5-5 x 3-3.5 µm.
Main navigation