Very heavy dark brown spore print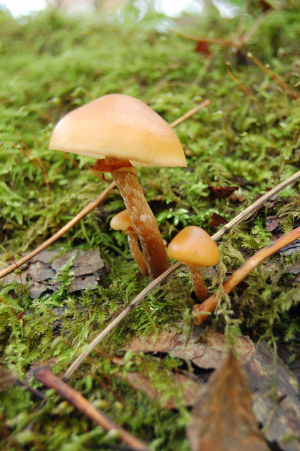 Observation - Very heavy dark brown spore print - UK and Ireland. Description: As the title of this post says, this small mushroom produced an extremely heavy dark brown spore print, and continued doing so for a day or two. Noticeable ring remnant below cap, which in younger examples was much more convex than the older examples nea
As the title of this post says, this small mushroom produced an extremely heavy dark brown spore print, and continued doing so for a day or two.
Noticeable ring remnant below cap, which in younger examples was much more convex than the older examples nearby shown in the fourth of my photos.
Impossible to determine the species of tree these were on due to advanced level of decay and moss, though mixed woodland where beech and sycamore predominate.
I think the gills are adnate and of differing lengths.
No particular smell.
Main navigation