white bat (heavily leucistic)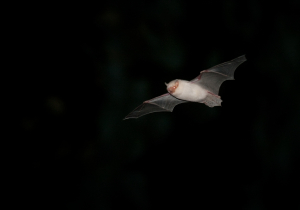 Observation - white bat (heavily leucistic). Description: This photo I took a year or so ago of what we think is a heavily leucistic (not an albino) bat (possibly a common pip) has done the rounds since we first saw the flying snowball hawk ovr our neighbours garden. (it has done so for four years now). But eve
This photo I took a year or so ago of what we think is a heavily leucistic (not an albino) bat (possibly a common pip) has done the rounds since we first saw the flying snowball hawk ovr our neighbours garden. (it has done so for four years now).
But even a supposed expert chiroptologist on baord, we've not been able to ID to species level.

Any chance of the good people at i-spot having a go.

Please don't ask me for a better photo - its very hard taking a photo of a flying bat at night with no autofocus...! This is the best I managed in three years...