Hoof style Fungus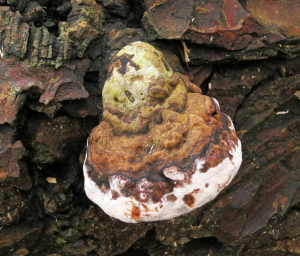 Observation - Hoof style Fungus - UK and Ireland. Description: Shaped like hoof. About two inches from top to bottom, same across underside. On part of trunk of tree which has been felled for quite a while and don't know what tree but didn't look like birch. Pine? Lots of sycamore and beech nearby as well. Fits
Shaped like hoof. About two inches from top to bottom, same across underside.

On part of trunk of tree which has been felled for quite a while and don't know what tree but didn't look like birch. Pine? Lots of sycamore and beech nearby as well.

Fits description of Fomes fomentarius except the location is far south of England and the underside seems to be pink rather than cream . . at the same time - was only possible to see the underside with camera, couldn't get under it to see by eye.
Main navigation