Feral Pigeons at War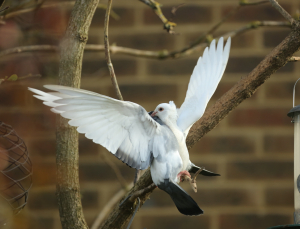 Observation - Feral Pigeons at War. Description: I've got a real problem with feral pigeons on my feeders. They go through a feederful of food a day and would eat nore, given the chance. They chase off other birds, and only give way to the black squirrels. I've got a feeder that's surrounded by a wir
I've got a real problem with feral pigeons on my feeders. They go through a feederful of food a day and would eat nore, given the chance. They chase off other birds, and only give way to the black squirrels.
I've got a feeder that's surrounded by a wire ball, but they sit on top of it. I tried removing the tray at the bottom of the feeders, but then they batter themselves against them; I've even found blood on them. I don't wish them harm, so I'm stumped really.
They fight amongst themselves, as you can see.