Parietaria judaica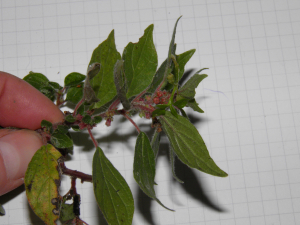 Observation - Parietaria judaica - UK and Ireland. Description: Very common weed, often found in the junction of wall and pavement,growing upwards by leaning on the wall. Presumably, hence the common name? I've also seen it growing partway up walls. Distinctive clumps of reddish male flowers up the stem: l
Very common weed, often found in the junction of wall and pavement,growing upwards by "leaning" on the wall.

Presumably, hence the common name?

I've also seen it growing partway up walls.

Distinctive clumps of reddish male flowers up the stem: looks a bit like a nettle, despite the untoothed leaves, which is not surprising as it's in the same family.
Main navigation