Tubaria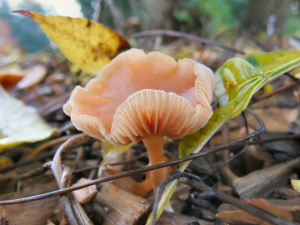 Observation - Tubaria - UK and Ireland. Description: Scattered group of small brown mushrooms growing on wood chips. Caps about 3 cm across, flat with upturned margin, greasy, tan colour, darker in centre, striate and lighter towards wavy margin. Gills adnexed, broad, similar colour to cap but paler, long
Scattered group of small brown mushrooms growing on wood chips.
Caps about 3 cm across, flat with upturned margin, greasy, tan colour, darker in centre, striate and lighter towards wavy margin.
Gills adnexed, broad, similar colour to cap but paler, long gills widely-spaced with several tiers of intermediates in between.
Stem 2.5 cm long, 4 mm across, fibrous, fused to wood chips with white mycelium.
Spore print rust coloured. Spores in Melzer's were transparent, broadly ellipsoid, 6.5-8.5 x 4.5-5.5 microns, Q=1.3-1.8.
4-spores basidia. Capitate cystidia.
Main navigation