trooping through the wood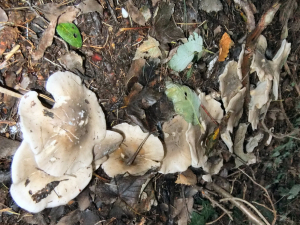 Observation - trooping through the wood - UK and Ireland. Description: About 15 large flat dirty-white mushrooms trooping in a more or less straight line through a mixed wood. Caps up to about 16 cm across, dirty white with grey central area, flat/shallowly-funnel-shaped. Gills white/light-brown, crowded, decurrent. Stem
About 15 large flat dirty-white mushrooms trooping in a more or less straight line through a mixed wood.
Caps up to about 16 cm across, dirty white with grey central area, flat/shallowly-funnel-shaped.
Gills white/light-brown, crowded, decurrent.
Stem about 5 cm long x 1.5 cm across, dirty beige, fibrous.
Spore print white. Spores (mostly stuck together in clumps), mottled green in water, ellipsoidal, 6-7 x 3.5-4.5 microns, Q= 1.5-1.7.
Main navigation