Clitocybe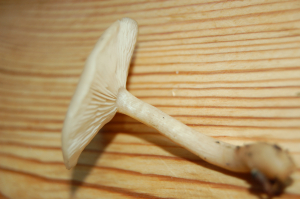 Observation - Clitocybe - UK and Ireland. Description: Pale cream 3cm-diameter cap was originally flat and greasy with dark spot in centre, but after a day under the drying glass turned almost white and dark spot almost disappeared. Also, depression in centre deepened markedly. Gills are sinuate/moderately d
Pale cream 3cm-diameter cap was originally flat and greasy with dark spot in centre, but after a day under the drying glass turned almost white and dark spot almost disappeared.
Also, depression in centre deepened markedly. Gills are sinuate/moderately decurrent and very crowded and of differing lengths.
Spore print was white.
Stem cylindrical and curved at base.
Found in grassy verge close to mixed woodland.
No distinct smell, so probably not Fragrant Funnel.
I thought possibly Clitocybe metachroa.
Main navigation