unknow fungus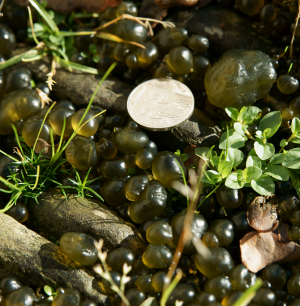 Observation - unknow fungus - UK and Ireland. Description: small green spherical globes containg clear liquid. under microscope the liquid contains chains of single cell growths. The outer casing is translucent green again microscopically it appears to be made up of elongated cells possibly a fruiting body
small green spherical globes containg clear liquid.

under microscope the liquid contains chains of single cell growths. The outer casing is translucent green again microscopically it appears to be made up of elongated cells

possibly a fruiting body of some sort

dicovered growing in abundance in cobble stones in partial shade with greater concentrations near walls around cobbles.
Main navigation