Lactarius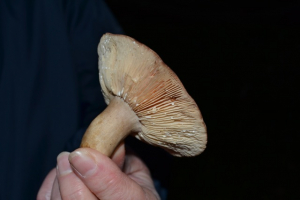 Observation - Lactarius . Description: Cap ~12cm across; greyish with lilac tinge and 3(or more) darker grey concentric rings towards the circumference. Plenty of white 'milk' oozing from gills, which are cream-coloured. Found in grassy area beneath large oaktrees where sheep graze. To dec
Cap ~12cm across; greyish with lilac tinge and 3(or more) darker grey concentric rings towards the circumference. Plenty of white 'milk' oozing from gills, which are cream-coloured.

Found in grassy area beneath large oaktrees where sheep graze.
To decide this species is difficult - it has characteristics of several spp but none fit exactly (several close matches are somewhat smaller than this).