Leratiomyces ceres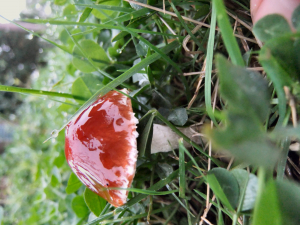 Observation - Leratiomyces ceres. Description: Bright red mushrooms growing in newly established wood-chipped beds. Caps initially convex with white partial velar remains around margin, later up to 7 cm across, flat with down-curved margin. Gills adnate with a notch near stem, wavy, dark grey with l
Bright red mushrooms growing in newly established wood-chipped beds.
Caps initially convex with white partial velar remains around margin, later up to 7 cm across, flat with down-curved margin.
Gills adnate with a notch near stem, wavy, dark grey with lighter edges.
Solid stem about 4 cm long, 9 mm diameter, reddish towards base, white ring zone at top, white mycelium at base.
KOH on cap inconclusive.
Basidia 4-spored, cylindrical cystidia.
Spore print dark grey, Spores smooth, grey in Melzers, elliptical with large germ pore, 10.5-12 x 6-7 microns.