Buckthorn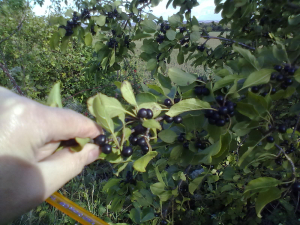 Observation - Buckthorn. Description: Scruffy, windswept bush, covered in berries. Caused some initial confusion as the leaves were not obviously opposite, as per all the books, but appeared to be in bunches on short shoots. Close inspection of leaves - curving veins, no latex, toothed -
Scruffy, windswept bush, covered in berries. Caused some initial confusion as the leaves were not obviously opposite, as per all the books, but appeared to be in bunches on short shoots.

Close inspection of leaves - curving veins, no latex, toothed - and arrangement of berries in bunches confirmed it was Buckthorn.

Apologies for the photos, it was very windy!