Small spider on a wall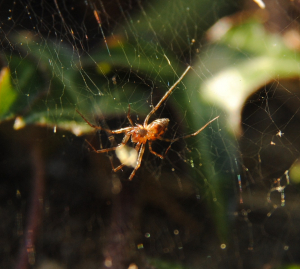 Observation - Small spider on a wall - UK and Ireland. Description: Following on from my post "Small wasp on spider's web" * (Posted 15th October 2012) * ichneumonoid wasp. This is probably the spider concerned (though I notice on this occasion there were three of these webs, very close together). If an ID of the spid
Following on from my post "Small wasp on spider's web" * (Posted 15th October 2012)
* ichneumonoid wasp.
This is probably the spider concerned (though I notice on this occasion there were three of these webs, very close together). If an ID of the spider is possible, I should be grateful.
Main navigation